It is officially summertime, which means it is time to find a good bench in the closest park and dive into some quality summer reading! Bob Robinson at (re)inegrate has complied a great list of books to read this summer, and Hearts and Minds Books owner, Byron Borger, came up with some stellar reviews for them.
Note: All these books are available from Hearts & Minds Books. Check out the original (re)integrate blog post for a 20% discount on all of these great reads!
Must-Read Book of the Year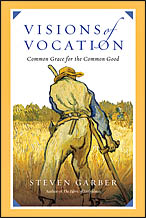 Visions of Vocation: Common Grace for the Common Good by Steven Garber (IVP, $16.00). If you subscribe to my book-review blog, BookNotes, or have heard me at nearly any place we've set up books in the past year, you'll know that I've declared this the best, the most important, the most interesting, the most vital book, and my personal favorite book, of the last several years. It won our "Book of the Year" for 2014. Here is a link where I review the book more precisely, and I explained why I commend it, listing a few very solid reasons. It may be my favorite BookNotes post of the past year, and I hope you saw it (and maybe even shared it with those who might be curious about this kind of a mature book). We offer our congratulations to Steve for the other more important awards it has won (including a runner up "Best of" honor over at Christianity Today). This book displays Steve's deep knowledge, his mature guidance, and his very stimulating stories, richly told. He delightfully cites movies, mentions meetings with pop icons and rock stars. U2, Mumford & Sons, Dave Matthews Band, are quoted. He exegetes poems and rock songs and films, always offering exceptional insight, gifted as he is at doing these things. He doesn't just cite a star so he can seem hip to a demographic, or because some editor asked him to lighten up. Steve is one of the most naturally gifted discerners of popular culture who can speak with profundity and intellectual acumen, keeping a foot properly planted in what some call the real world. You may also know that Steve is one of Bob Robinson's mentors in his doctoral studies on the reintegration of faith, vocation, and culture.
Biblical Studies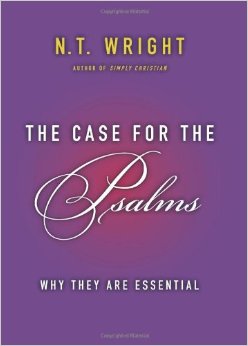 The Case for the Psalms: Why They Are Essential by N.T. Wright (HarperOne, $22.99). When I got to the last page of this book, I went back to page one and started it all over again. This is rare for me. This is truly a great little book and some of what he says here is fresh and profound! It is the best book I've ever read on the Psalms. I was immediately taken by the strong balance of personal reflection and scholarly insight, Wright's own candid concerns, and his remarkably learned explanations. But to say that this book "teaches" doesn't quite capture the experience of reading it — it draws the reader in, allowing us to not just intellectually grasp some new ideas about how the Psalms work, but it invites us into them, and challenges us to inhabit them. We come away with new knowledge, yes, but also with a glad joy of having been with these amazing texts, almost shuddering as if on holy ground, in ways that deepen our faith and discipleship.
Culture-Shaping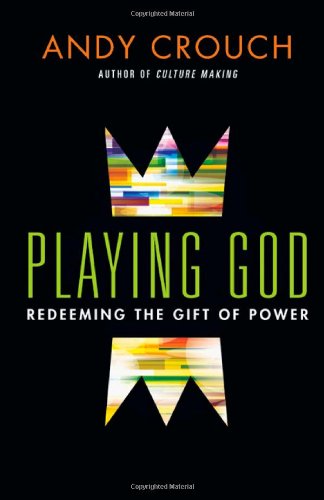 Playing God: Redeeming the Gift of Power by Andy Crouch (InterVarsity Press, $25.00). This is wonderfully written, thoughtful and elegant, mature and eminently readable. There is a fine blend of serious scholarly analysis, some power-house storytelling, and some very creative and compelling Bible study. How do we respond to the commonly-held assumption that power corrupts and that people of faith, in the quest to be humble and Christ-like, ought not wield power? Crouch insists that power is a gift.  He can say this because (as he explains in an excellent few chapters) it is part of the created order. A robust and sturdy theology of creation and the cultural mandate to "make something of the world" that teams and swarms with potential is necessary for a full understanding of our call to culture-making, in which the use of power finds its home.  Although the gift and vocation to take up our offices in cultural authority by exhibiting our human instincts for creativity and influence is the burden of his previous book, Culture Making: Recovering Our Creative Calling (now out in paperback IVP, $20.00), he revisits this biblical theme with as much clarity and good sense as I've ever seen. If you want to make a difference in the world, if you care at all about social reform, institutional renewal, or the health of our culture, this is not just relevant and rewarding but one of the truly essential reads of our time.
Spiritual Formation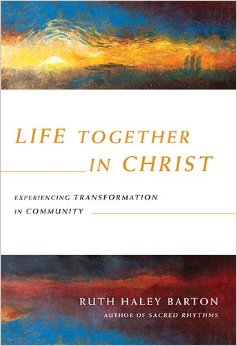 Life Together in Christ: Experiencing Transformation in Community by Ruth Haley Barton (IVP, $18.00). Ruth Haley Barton has a natural gift, it seems, to be full of grace and charm and is able to take fairly deep, even mystical stuff, and help readers come to appreciate and imagine the plausibility of their own encounters with having this deepened nature. Her teaching (see her great DVD series Sacred Rhythms) and her writing is profound yet clear. What a gift, to be able to inspire folks to want more of God, to teach the classic, ancient disciplines, to be ecumenical and evangelical, and to actually guide readers into better ways of life, a true spiritual life. I read a lot of contemplative and devotional classics, and, to be honest, often return to Barton's books, and always, always, recommend her to those interested in spirituality. So, yes, she's a personal favorite, and any new book from her is sure to be a winner. This one, though, is fantastic; a must-read. It is about how spirituality is deepened in community (and how authentic community can be the perfect soil for deepening growth in our relationship with God.) This is titled perfectly: we are in Christ, and we are living life together. This is not a "how to" book for better small groups, but I commend it to small group leaders. More, it is a course on spiritual formation for small life groups.
Integrating Faith and Work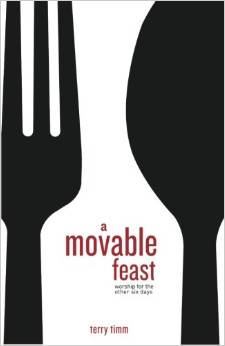 A Movable Feast: Worship for the Other Six Days by Terry Timm (ImaginationPlus, $11.99). I respect Pastor Terry Timm a lot — he is doing excellent work in the suburbs of Pittsburgh, with a special ministry (may his tribe increase!) helping his congregants think Christianly about their callings and careers. They have brought people the five hours to Hearts & Minds to have me help them find books around their various passions and professions, and they have paid to have me visit with them, helping curate a list of books for their particular needs. Well, who does that? And why? This is why: if one worships well, if one is truly attracted to adore Christ as Lord, then this Sunday morning stuff will spill over into a life well lived. Terry Timm is a new kind of leader, it seems, truly running with this recent interest in work, vocation, calling, and the "other six days" of the whole people of God, for the life of the world. But he starts at the beginning, the worship of the God who deserves praise. This is a great little book on renewal in worship for the sake of the calling of the people to serve as salt and light. Welcome to the feast.
Integrating All of Life with Faith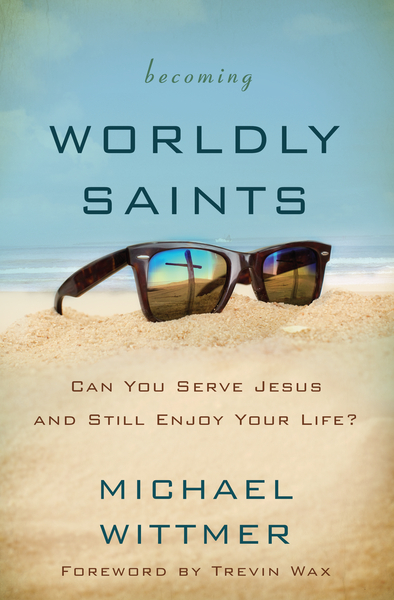 Becoming Worldly Saints: Can You Serve Jesus and Still Enjoy Your Life?  by Michael Wittmer (Zondervan, $15.99)  Oh, wow, this is it. It is the long-awaited sequel — or at least that's how I see it — to his must-read, really great, gotta have Heaven Is a Place on Earth: Why Everything You Do Matters to God(Zondervan; $16.99). That book frames all of earthy life and all our various callings and responsibilities in light of the over-arching drama of the Bible, which is to say creation/fall/redemption/restoration. God made the world really good, it got messed up really badly, Christ's redemption really is cosmic in scope ("far as the curse is found" as the carol puts it) and the promised restoration really is a-coming. Becoming Worldly Saints carries out that theme, helping us live it, day by day, inviting us to live with joy, free from guilt, embracing the not-yet-redeemed world. It is warm and Biblically-rich, and even clever at times (so much so, that Al Wolters, author of the seminal Creation Regained — a heck of a nice guy, but not really known as a comic — says of Wittmer's book "It made me laugh right out loud. This is popular theology at its best.") Now that's a back cover blurb for some of us, at least: it made Al Wolter's laugh! Mike Wittmer doesn't want us to lose sight of the world-affirming aspects of our Christian faith. He doesn't want us to underestimate the power of living an ordinary life of faithful devotion to King Jesus. He doesn't want us to feel false guilt for enjoying the good world God has given us. The truth of eternity doesn't obliterate our earthly experiences; it infuses them with heavenly significance.
Pop Culture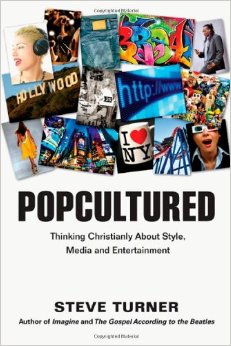 Popcultured: Thinking Christianly About Style, Media and Entertainment by Steve Turner (IVP, $17.00). Any year when there is a new book by Steve Turner is a good one. Popcultured moves the conversation about a Christian framework for engaging pop culture forward considerably, not only as Turner offers new insights and formulations and concerns, but because of the way in which he guides us into thinking faithfully about topics about which little theologically aware has been written. Kudos for years of good writing, but we really want to celebrate this important collection on topics such as fashion, comedy, advertising, celebrity culture, photography, technology, alongside more regularly approached (but still vexing) aspects of culture such as film and TV. He gives very helpful insight about how people of faith might wisely consume, critique and create artful leisure pursuits. Excellent.
Global Concern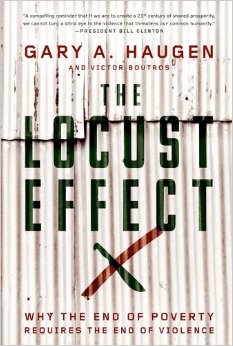 The Locust Effect: Why The End of Poverty Requires the End of Violence by Gary Haugen & Victor Boutros (Oxford University Press, $27.95). There is little doubt that Mr. Haugen, who founded International Justice Mission (IJM) and helped raise awareness to the injustices of sexual trafficking and contemporary slavery and has valiantly worked to liberate untold thousands, knows as much about structural evil and systemic violence than anyone on the planet. A thoughtful, prayerful, bold Christian, he has lead IJM to partner with lawyers, courts, police and governments throughout the world to work for reform of policies and enforcement of laws protecting the vulnerable. In the magisterial Locust Effect, with the help of a young activist-scholar, they lay out the bigger picture, the need for the rule of law, the relationship of injustice and disorder, and how to establish greater public justice in places that are desperately in need of shalom. This book is one of the finest examples of thoughtful, accessible, inspiring, social justice advocacy, and a major contribution to the fields of global poverty and justice.
Justice and Social Action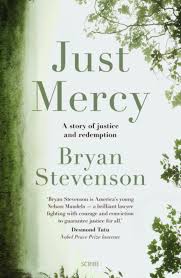 Just Mercy: A Story of Justice and Redemption by Bryan Stevenson (Spiegel & Grau, $28.00). I've suggested out loud that I wouldn't be surprised if this remarkable legal reformer who serves poor, imprisoned clients, gets the Nobel Peace Prize someday. This is a truly extraordinary story, a page-turner, a memoir unlike any I've read, truly one of the best books I've read in my life. One of the best of 2014? Oh my, my, absolutely yes! With endorsements from Desmond Tutu, Michelle Alexander, Isabel Wilkerson, Tracy Kidder, and novelist John Grisham, you should realize that this is a work to be taken seriously. Bishop Tutu calls Stevenson "America's young Nelson Mandela." Read this amazing book, and you'll see how Bryan Stevenson has been called a real-life Atticus Finch has earned the respect of so very many, by putting criminal reform for the poor, people of color, the very young and the very mentally challenged, at the heart of his vocation to make a difference for the abused.  You will see the world more realistically after reading this book, and you will be of better service to God and country.
Marriage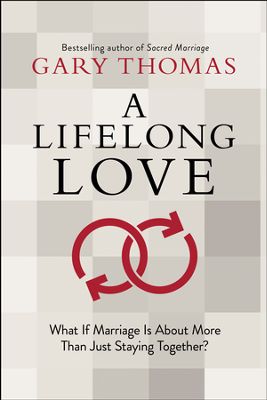 A LifeLong Love: What If Marriage Is About More Than Just Staying Together? by Gary Thomas (Cook, $18.99). Despite the rather technical-looking, grey cover, this book is beautifully crafted, a wonderful, chatty, charming bit of writing that can help anyone who wonders how to make their marriage more meaningful, more alive, more intimate, truly lasting a lifetime. I've often said that Gary Thomas is one of my favorite writers, and we stock all of his books. We adore his reflective, useful, deeply spiritual book Sacred Marriage (now only available in a gifty hardback that includes the 52 week devotional with it.) I suppose this new 2014 book could be seen as a sequel to that beautiful meditation. Like that one, Thomas reminds us in LifeLong Love that our sacred unions are not so much for our own pleasure or self-actualization, but are means of grace, avenues of pursuing holiness. Is God in your marriage? Do you want to practice the presence of Christ in the ordinary ups and downs of an ordinary marriage? This lively book will help. It helps you live out his big themes of the spirituality and holiness of family life. It isn't abstract or too detailed, neither a textbook or a workbook. It is just right, interesting, informative, but well worth meditating on.
Family Memoir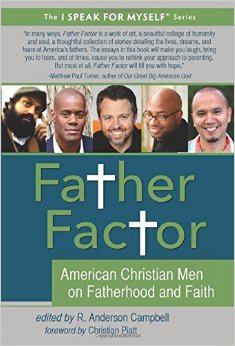 Father Factor: American Christian Men on Fatherhood and Faith edited by R. Anderson Campbell (White Cloud Press, $17.95). Bob and I count Andy Campbell as one of our dear friends. and at least four of the 33 chapters are written by personal friends. We have a few famous authors and a lot of unknown guys penning wonderful, moving essays about their own fathers, or about their own story of being a father, or their understanding of God as father (or all three, perhaps.) Dr. Campbell, who used to work for the CCO, is an Assistant Professor of Christian Studies at George Fox University in Oregon. Wow. A few of these stories moved me to tears. Together they are not only enjoyable, but worthy of deep consideration. As Richard Mouw writes, "These wonderfully readable accounts of father-son relationships are both candid and inspiring, exploring issues that touch many of us in deep ways. But they prod to go even deeper, point us to the ways our relationships with our human fathers shape — and all too often distort — our conceptions of the One who we have ben taught to address as Our Father…" Sarah Bessy says it well when she notes that Father Factor is "sometimes hilarious and sometimes heartbreaking, this tender collection of stories from fathers opened my eyes and my heart anew. Thank God for men like these!"
Basic Christian Growth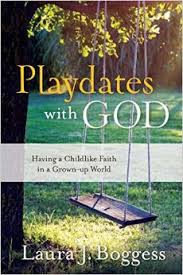 Playdates with God: Having Childlike Faith in a Grown-up World by Laura J. Boggess (Leafwood, $14.99). Laura Boggess is an excellent writer and a content editor, along with Bob Robinson, at TheHighCalling.org. While that website's broad vision of the Kingdom and a keen sense of calling and vocation hovers around the topic of work, in this lovely book she shows what is often in her own heart — a simple faith that sees how God is calling us back to an intimate relationship with our Creator. I resonated with her opening pages, sharing how she decided not to have a traditional "daily quiet time" of prayer and reading a little devotional book. Certainly she believes in rigorous study and prayer, but wondered what her time of spiritual formation might be like if she understood it less as a study, but as a "playdate."
Leadership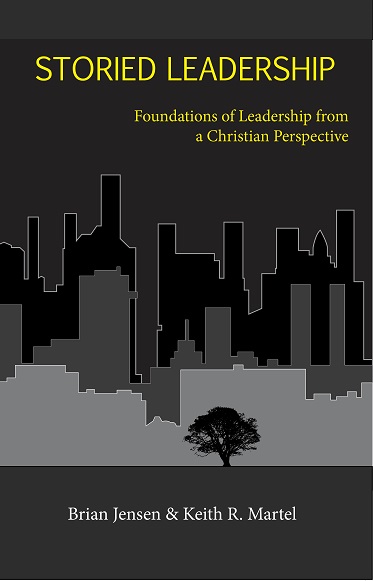 Storied Leadership: Foundations of Leadership from a Christian Perspective by Brian Jensen & Keith R. Martel (Falls City Press, $18.00). This great new book is easy to read, and not long, but it is deceptive in its breezy conversational style and upbeat illustrations and stories from their own colorful lives. Not every book that so easily captivates readers with good writing, whimsical and moving stories while also offering a substantive, serious biblical theology. But this book does both; it is chock full of gratifying episodes, helpful insights drawn from crazy stories, and truly wise comments (not to mention a few wise cracks) as it offers what has to be called a robust, narrative, Christian theology. It is significant that they insist on a multi-faceted, wholistic view of the human person, and so therefore, leadership isn't conferred only on those with great intelligence or charisma or power. Leadership certainly isn't mostly about techniques or skills. In a few fascinating pages they expose as unhelpful this view of leadership that grew to its high water mark in the modern, industrial era.  They help us realize that we all are called into callings of leadership, and we don't usually travel that journey alone. We are in this together, and they inspire us to great solidarity and collaboration throughout the book.
Prayer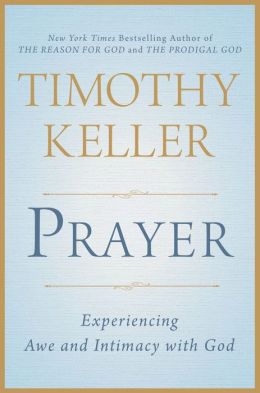 Prayer: Experiencing Awe and Intimacy with God by Timothy Keller (Dutton, $26.95). There have been a handful of books on prayer that I most always recommend, and for those who only intend to read one or two, I have been suggesting the same few for years. I am not sure this outstanding new release is going to supplant those simple, clear, useful books (Too Busy Not to Prayby Bill Hybels, Prayer by O. Hallesby, The Praying Life by Paul Miller, and Prayer: Finding the Heart's True Home by Richard Foster, in case you wondered). But there is no doubt that of all the books on praying that have come out in the last few years, some serious, some silly, some clear, some weird, this is the most sound, the most mature, the most helpful, and the most commendable. Here are the main sections, which Keller explores conscientiously and warmly with several good chapters under each: Desiring Prayer, Understanding Prayer, Learning Prayer, Deepening Prayer, Doing Prayer.
Church Life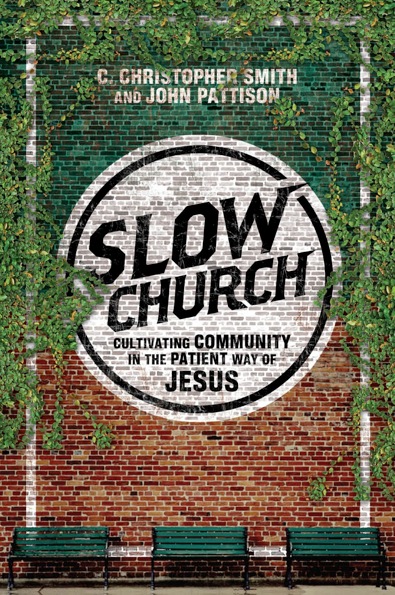 Slow Church: Cultivating Community in the Patient Way of Jesus by C. Christopher Smith & John Pattison (IVP, $16.00). If this book is any indication of the Praxis line of IVP, we can take much hope in the future of rumination on the state of the church and the art of missional ministry. This book is my personal favorite book in this category in years. It is wonderfully written. The sentences are often beautiful. They've worked hard (slowly, perhaps) to craft a good book full of good word choices, clever phrases, good lines, interesting paragraphs. This book is supremely important.  That it engages the very heart of our culture, that it reflects on the spirit of the age, that it truly attempts to do contextualized theology in the 24/7 postmodern world of speed, makes it very, very significant. Slow Church is a godsend, a wonder, a must-read. This book is the real deal. So come on, hurry up and buy this, and then slow down. Slow down together, in whatever place you inhabit, learning to cultivate community with trust and patience.
Evangelism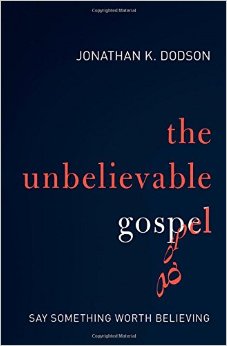 The Unbelievable Gospel: Say Something Worth Believing by Jonathan K. Dodson (Zondervan, $16.99). I like reading books about evangelism, and there are many that are really good. I find that most people don't know how to share their deepest convictions in ways that are natural and persuasive. We are either too pushy or so desirous of not seeming disrespectful, that we often stay quiet, even when opportunities present themselves to share the gospel. And then, sometimes, we do broach the subject of telling our story and we realize there is a huge disconnect between what we know to be gracious good news, and the typical unchurched person's view of Christianity; or, there is a disconnect between what we want to say, what we believe deeply to be the truest truths, and our confusion and inability to actually say much coherent. No wonder we'd rather just nod and smile. The Unbelievable Gospel is the best book I've seen in several years on this topic, from its colorful and helpful design to its mature clarity about the nature of communication, and, mostly, about its astute appreciation for how faith and Christian discipleship simply isn't compelling, or even plausible, for many in our culture. The last five chapters (each one with "Good News to Those Who…") is worth the price of the book. Lots of thinkers I respect (from Alan Hirsch to Jerram Barrs, from Ed Stetzer to Mark Sayers to David Fitch) have given this big thumbs up.
Intro to Christianity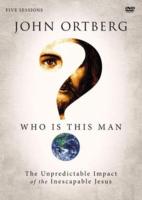 Who Is This Man? The Unpredictable Impact of the Inescapable Jesus by John Ortberg (Zondervan, $22.99). We love this author and this book, but wonder how to describe it, and – we wonder, sometimes – where to best shelf it in the store? Who really is it for? It is a book about Jesus, obviously, so it goes there. It is the latest in the long line of wonderful, readable books by Ortberg, so it goes on the "distinguished authors" section right inside the front door. But, also, should it go under history (since it shows how so very much of Western culture has been influenced by the teachings of Jesus)? Yes, it should. And should it also be placed with other books about apologetics, for seekers, since it makes such a winsome case about the lovely draw of the person of Christ? Yes, yes, I think that is a great place for it, as it really is a great book to give to anyone who wants an introduction to who Jesus was and is, and the implications that flow from his personhood. Or, should it just go under what we call "basic Christian growth" as it will surely remind church folks why they call themselves Christians, underscoring our basic convictions about the glorious answer to this vital question: Who is this man? This book is warm and interesting and thoughtful and persuasive. In workshops about reading I often suggest that folks read at least one book about Jesus every year. This clearly could be one for this year.
Apologetics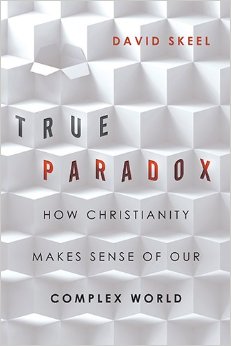 True Paradox: How Christianity Makes Sense of our Complex World by David Skeel (IVP, $15.00). We were pleased to promote this a bit when it very first came out while at the 2014 annual Christian Legal Society Conference last fall — what a trip to Boston, with thoughtful legal thinkers and Christian lawyers! Professor Skeel was not there, but many there knew of his astute legal mind, and his charitable, caring style. He is a rigorous thinker, and a good man, we've come to realize, and this book has been long-awaited for those of us who have followed him online. The heart of this book is captured well in the title and in the reference to complexity in the subtitle — although my silly summary (that Christianity isn't plausibly true only because of its tight, logical answers to tough questions, but because of its leaving room for weirdness) maybe works, too. That is, the Christian worldview offers a good account of a world where not everything can be easily explained, and its comfort with paradox and mystery is itself a good sign of its being attuned to reality.
Inspiration for the Christian Life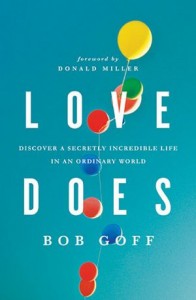 Love Does: Discover a Secretly Ordinary Life in an Ordinary World by Bob Goff (Nelson, $15.99). This may be in the running for one of my favorite books, ever. Readers of Donald Miller's coffee shop ruminations on faith may recall Goff, who shows up part way through A Million Miles in a Thousand Years to help mentor Miller. In this long-awaited book ,the energetic Goff tells tons of stories from his life as a kid, a young law student wannabe, an international activist, do-gooder, justice worker, friend, prankster, and erstwhile follower of Jesus with a gigantic sense of humor. It is about the funniest book I've read all year, and certainly the most inspiring. You won't believe some of his crazy tales, from fighting child slavery in Uganda to pulling pranks on rich friends in NYC. Goff is electric, optimistic, exceptionally talented, always likable, a born story-teller, and not the least bit cynical or ironic. He thinks God loves everybody, so he does too. And then he enjoys raising a ruckus to show it. His phone number is in the back of the book, so if you call him, tell him you read about him here.
Biography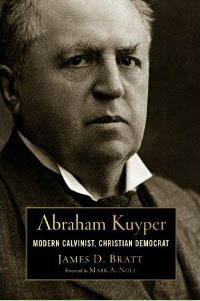 Abraham Kuyper: Modern Calvinist, Christian Democrat by James D. Bratt (Eerdmans, $30.00). As the forward by eminent evangelical scholar Mark Noll puts it, Bratt has given us a landmark book which answers the question "who was Abraham Kuyper and why should we care." Kuyper was a fascinating, tireless, preacher, writer, organizer — a "volcanic" force which started a newspaper, a university, a labor union, a political party, and more.  His insistence on alternative political organizations within a robust societal pluralism and his insightful balance of seeing what is often called "common grace" and "the antithesis" remains very fruitful for our own time.  The genesis and development of his many ideas and efforts are chronicled here, making this not only a superb exploration of his unique reformational worldview and its implications for politics, but it is, remember, a biography.  This is a thrilling life story, set in the context of a swirling, changing era, of a complex, controversial, colorful character.  It is, as Bratt says in his brilliant introduction, "warts and all."  Those of us who are seriously committed to working out some of the implications of his genius in our own day should know "Father Abraham" and his warts and blemishes and sins — and they were many! But, also, his fascinating, generative ideas and the strategies he used to see some of them come to fruition. This book is simply a must-read, a tremendously researched historical biography of a towering figure. As I have said, Kuyper was influential in Holland, helped shape seminal figures like Francis Schaeffer, and left a mark on US evangelicalism that ripples out to this day.  This is the book we've been waiting for!
Memoir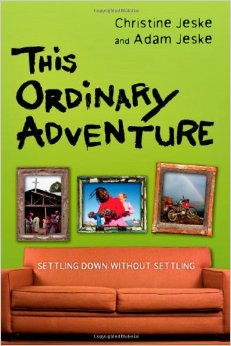 This Ordinary Adventure: Settling Down without Settling by Christine and Adam Jeske (IVP, $15.00). The books in IVP's edgy imprint called "Likewise" are almost all upbeat, contemporary, written by younger folks, missional, often dealing quite honestly with the most burning contemporary issues, like poverty, oppression, and the desires of younger adults to be faithful in fresh and demanding ways. We love this imprint of books. I can't put it in simple words, but this book moved me deeply, and, in some ways, is quintessential, capturing why "Likewise" is so very, very important. First, the book is fun. Religious publishing doesn't need more boring or cliched authors, trafficking in the same old religiosity. It speaks not only with a fresh voice, but it is ruminating on stuff that deeply matters to many of us, and certainly to many of the rising generation — namely, how can we be faithful to God's call to care about our broken world, caring for it in its beauty and pain, without burning out or growing jaded? This book is written in the popular, entertaining style of memoir — they tell their story of living a dream, of being passionate, of being, as they put it "amazing" (and doing it pretty much all over the world). But, of course, most of us live "in the land of malls and manicured lawns." We do ordinary stuff, we face "ruts and routines." Can we embrace a full vision of being amazing, without doing expensive, demanding things like traveling across the globe?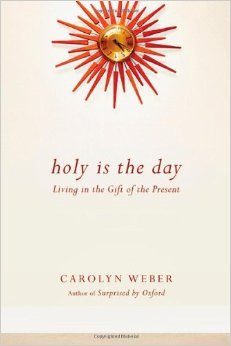 Holy Is the Day: Living in the Gift of the Present by Carolyn Weber (IVP/Crescendo, $15.00). Oh my, what an amazing book, one of the very best books we've read all year, elegant, interesting, full of fascinating episodes of a fascinating life as a writer, mother, teacher. You may know Ms. Weber from her highly regarded conversion memoir Surprised by Oxford and now you should know her for this fabulous book of wise Christian instruction, guidance for finding God in the ordinary, and how to embrace a busy life with grace and a sense of God's daily presence. Oh, the writing in this — what a joy to read! This is a wise and good book, certainly worthy of the highest praise.
Poetry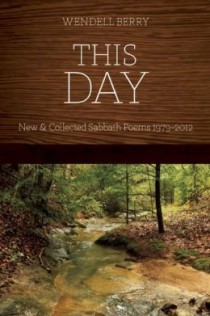 This Day: Collected and new Sabbath Poems by Wendell Berry (Counterpoint, $30.00). This is doubtlessly the poetry that we want to most recommend, by a farmer, novelist, poet, cultural critic, environmental activist and Southern storyteller. Many prestigious literary voices have honored Mr. Berry's work, and many have explained why he is so important. He himself has written about poetry. And, of course, he is respected for his novels and essays which seamlessly explore his agrarian vision. In this collection of poems, we read the poems that Berry has written over the years on his Sunday solitary walks around his farm in Kentucky. This is a big, beautiful book, spanning the years from 1979- 2012. Very, very nicely done in a nice hardcover edition.
Fiction Novel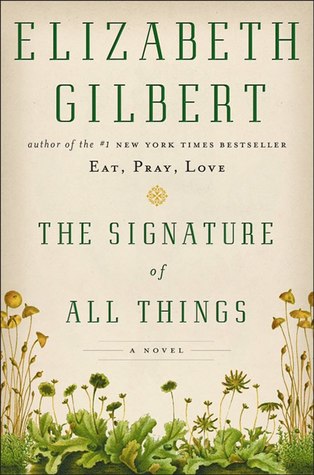 The Signature of All Things by Elizabeth Gilbert (Viking, $28.95). I will insist that this is not only the best novel I read all last year, but one of the most unforgettable stories I have everread. What fine, fine writing, what remarkable storytelling, what a fascinating, even troubling epic tale — one that even after 499 pages, I did not wish to end. Oh, how I will miss Alma Whittaker and her botanical studies. Although this story spans the globe, much of it is set in mid 19th century Philadelphia, and then in Tahiti, and then Holland. (Alma's father was a helper on the journeys of Captain Cook in the late 1700s and became wealthy in what might be called the early multi-national pharmaceutical business.) The main character, Alma, is a botanist, and the book has as one of its many themes large questions about faith and science, about Darwin — whose work is going to be published to her keen interest nearer the end of the book. There are missionaries, mystics, abolitionists, and, yes, some eloquently described moments of sexuality. I was glad I had a very handsome hardback, with deckled pages and beautiful botanical drawings in the flyleaves, the sort that one of the characters in the book draws and publishes. (The hardcover was released in 2013 and the paperback came out in 2014). I simply must share my own enthusiasm — My wife Beth's too, as she read it before I did, and was very taken with it — for this magisterial, complex, epic story, written in nearly perfectly rendered, wonderfully realized, luminous prose.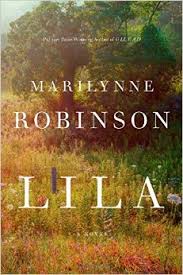 Lila by Marilynne Robinson (FSG, $26.00). You may know that she is one of our finest essayists, and a John Calvin scholar, as well; she is most esteemed, though, as a mature, thoughtful, serious novelist. She won the National Book Critics Circle Award for this novel. The judges called the novel "another miraculous and momentous American portrait" and praised Robinson for her "glorious language shot through with light and grace." This is the third book in a trilogy. Gilead (for which Robinson won the Pulitzer Prize) is the story of a small town, mid-Western pastor telling his life story. Last fall I met a young college student who said (in what warmed my heart) that she was "obsessed" with this novel. It is that good. The sequel, you may know, was Homecoming and now we have the third, Lila. Lila is the wife of John Ames, the pastor in the town of Gilead, and she appears in the earlier novels. This is her story, and what a story it is. She was neglected as a child, homeless and desperate at times, and crafted a life "on the run" quite unlike that of the man who marries her. Lila is a beautiful, intriguing story that you won't soon forget. After noting her "beautiful work…" James Wood wrote in the prominent The New York Times Book Review, "Robinson's words have a spiritual force that's very rare in contemporary fiction."
Photo credit: Dollar Photo Club
[author] [author_image timthumb='on']http://plfblog.org/wp-content/uploads/2015/06/photo673.jpeg[/author_image] [author_info]Byron Borger is a passionate advocate for deep reading in the Christian worldview. He believes that all spheres of life are supposed to be integrated in Jesus Christ for God's glory. Byron and his wife Beth own Hearts & Minds Bookstore in Dallastown, Pennsylvania. He offers insightful articles on the latest books at Hearts & Minds BookNotes. He is the go-to bookseller for conferences all across the Mid-Atlantic region. He writes regularly for several magazines, including Comment and Critique. He is always open to help anyone with choosing the best book, simply email him at read@heartsandmindsbooks.com or call Hearts & Minds at (717) 246-3333.[/author_info] [/author]